Receiving an invite for a beauty fair is like receiving a gift, wrapped in fancy paper. You get too excited, first, on the thought of getting a gift, and second, on what could be inside.
I'm no beauty pro, but I'd like to consider myself as an enthusiast. I love putting on makeup, be it simple or heavy. If you have been following my blog, you probably know by now how much I love lipsticks. I can actually live without any other makeup items, but not without a lipstick.
Going back to the event, I got all excited to be given the opportunity to experience Robinsons Department Store's Beauty Fair - "Vintage Vanity." Upon receiving the email, I instantly said yes.





The Beauty Fair provides shoppers with various discounts from 19 participating brands for the whole month of August.




My first stop's the Maybelline counter. We all know Maybelline for being a brand  that offers beauty products at very reasonable prices. With the discount c/o the Vintage Vanity, its prices are all the more lower. How awesome is that?
We had the chance to take advantage of their BLUE LIGHT SALE, wherein 30% discount is given to items worth Php250.00 and above whenever the blue light's ON.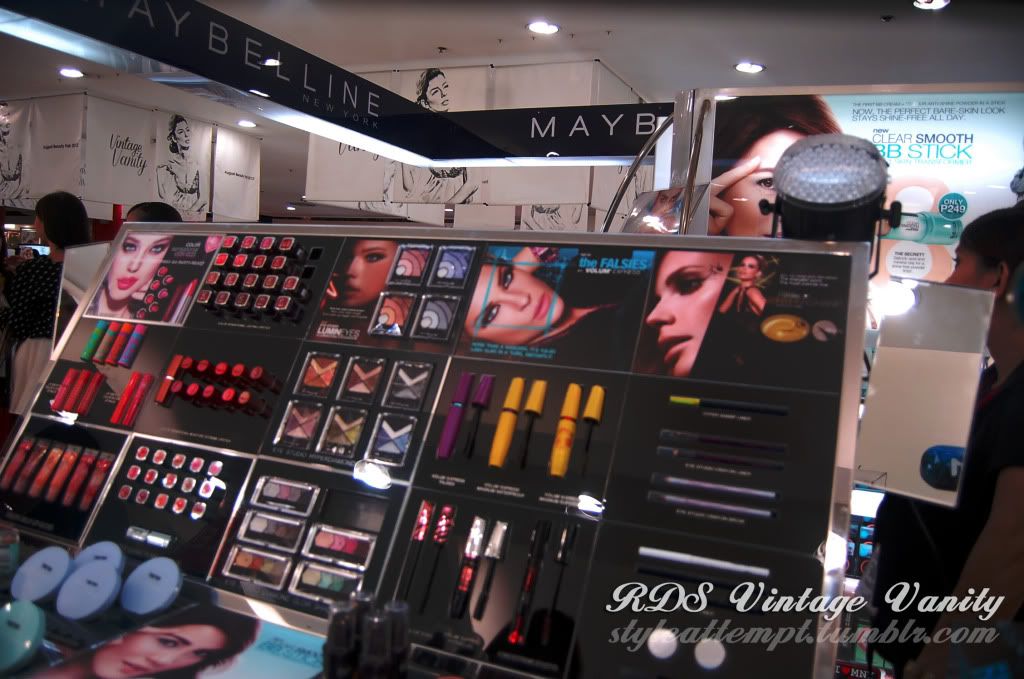 Trying to catch the blue light, but my camera settings failed me. :)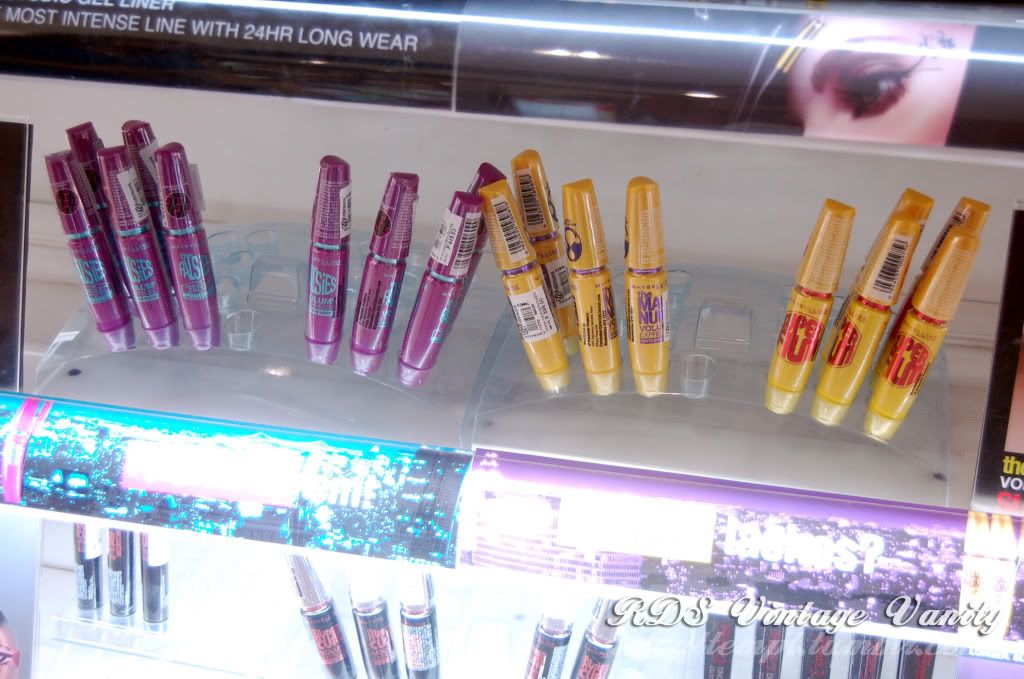 These are my targets!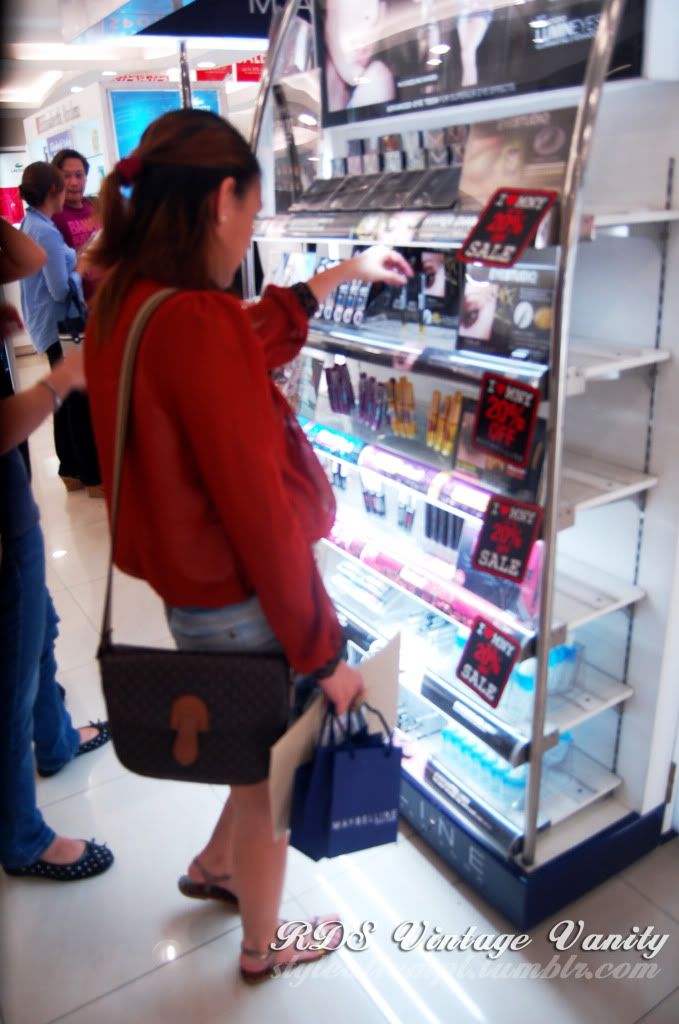 Browsing more Maybelline items. See those red tags?
Good thing, I brought my sister along. She took all these 'look I'm shopping for makeup, woohoo' photos of me. LOL. We spent hours, yes, hours going through various makeup counters. The practical shopper that I am, I thought of budgeting my shopping allowance well, so as to get the stuff that I don't have (or needs replacement) in my makeup kit as of the moment.
We went to Revlon's counter, then to Max Factor's, to L'Oreal's, then back to the counters of Revlon, Nichido, Ever Bilena, and Elf, among others. We literally went back and forth various counters because I just couldn't make up my mind right away on what items to purchase. Beauty madness, indeed!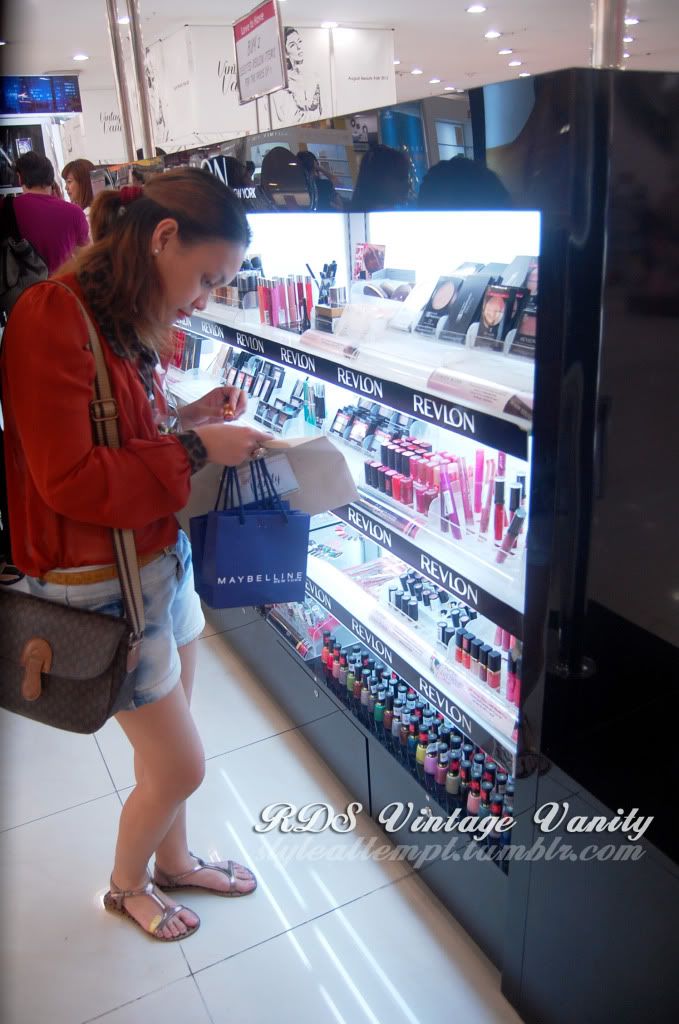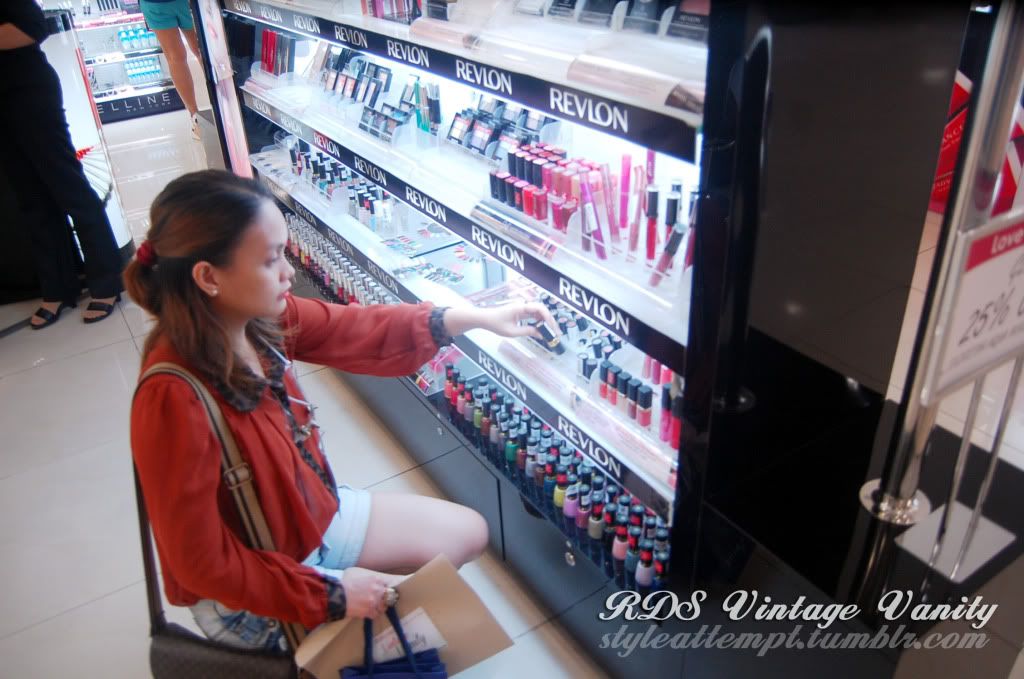 Major participants for this beauty fair include L'Oreal, Maybelline, and Garnier. Here are some of the deals that shoppers can score:

L'Oreal
- P100.00 OFF on selected items
- 15% OFF on all items on all weekends of August
- Get a FREE Lucent BB Cream Sample for every purchase of L'Oreal Paris makeup
Maybelline
- P100.00 OFF on all Color Sensational Lasting
- Lipstick when you present the RDS Beauty
Fair Advertorial in the August 2012 issue of Cosmpolitan Magazine
- P20.00 OFF on all face and eyes products
- P249.00 and below on all weekends of August
- 20% OFF on all items P250.00 and above on all weekends of August

Garnier
- P20.00 OFF on Garnier pressed powders
L'Oreal also gives out discounts on the following:

Dermo-Expertise - P100.00 OFF on care products on all weekends of August and 30% OFF on all Revitalift products
Excellence - 10% OFF on all items on all weekends of August
Men Expert - 10% OFF on cleansers on all weekends of August and 15% OFF on care products on all weekends of August
Garnier Nutrisse - 10% OFF on all items on all weekends of August




Other participants include Unilever products such as Dove, Sunsilk, Ponds.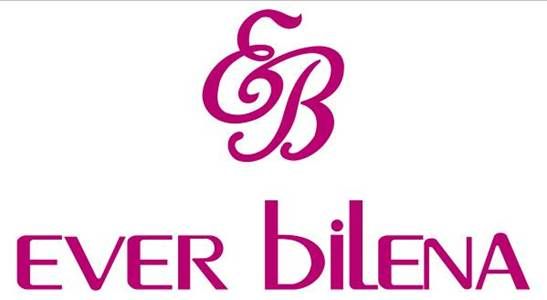 Freebies are also given for single-receipt minimum purchase of P350 of Careline/Ever Bilena products.






To those who are planning to purchase perfumes, a free gift awaits from Bvlgari for every purchase of Bvlgari Omnia 65ml and 25% off on selected Salvatore Ferragamo fragrances.


Special deals are also up for the following brands: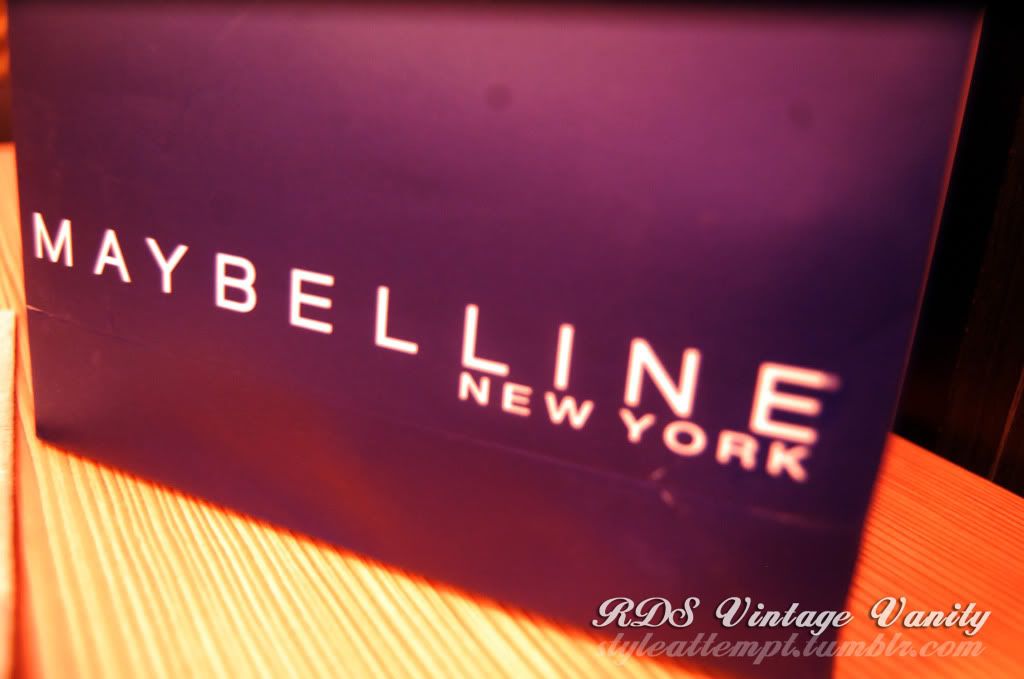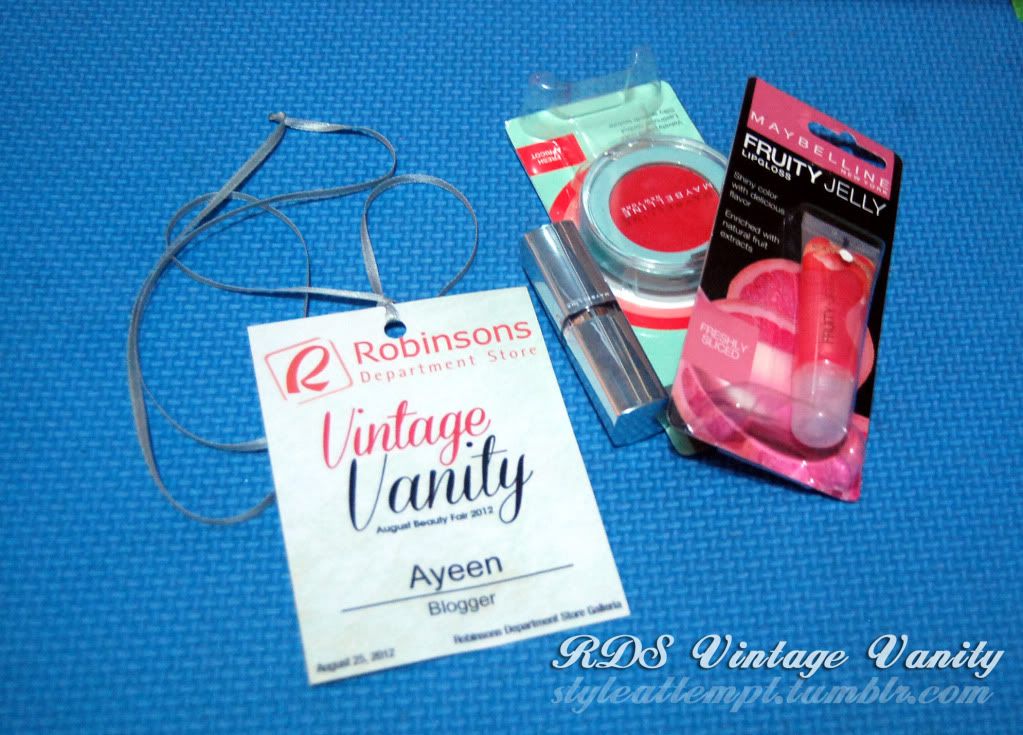 Thanks so much again to Robinsons Department Store for this opportunity.





***

So guys, exactly two more days for the beauty fair! Don't miss the chance of availing these deals and discounts, and yes, payday's in two days…so do the math. Hee! <3
xx, A