Shoes are vital components of an outfit. It can definitely make or break your entire look. However, contrary to what most believe, shoes should not be solely about trends or style, but should be about comfort too.
When it comes to comfort, Schu is a brand that provides. I'm not just talking about the brand's flats or loafers but even their heels. 
And because I'm a self-confessed Schu fan, and because I want ONE of you to experience the comfort that a Schu-shoe brings (wow, tongue-twister lang ang peg), here's a giveaway!
This was supposed to be a part of my blog's anniversary giveaway but due to how things turned out the past month and these past few weeks, I had to hold-off the giveaway. But enough of what should've been…here's the giveaway and winning is easy-peasy!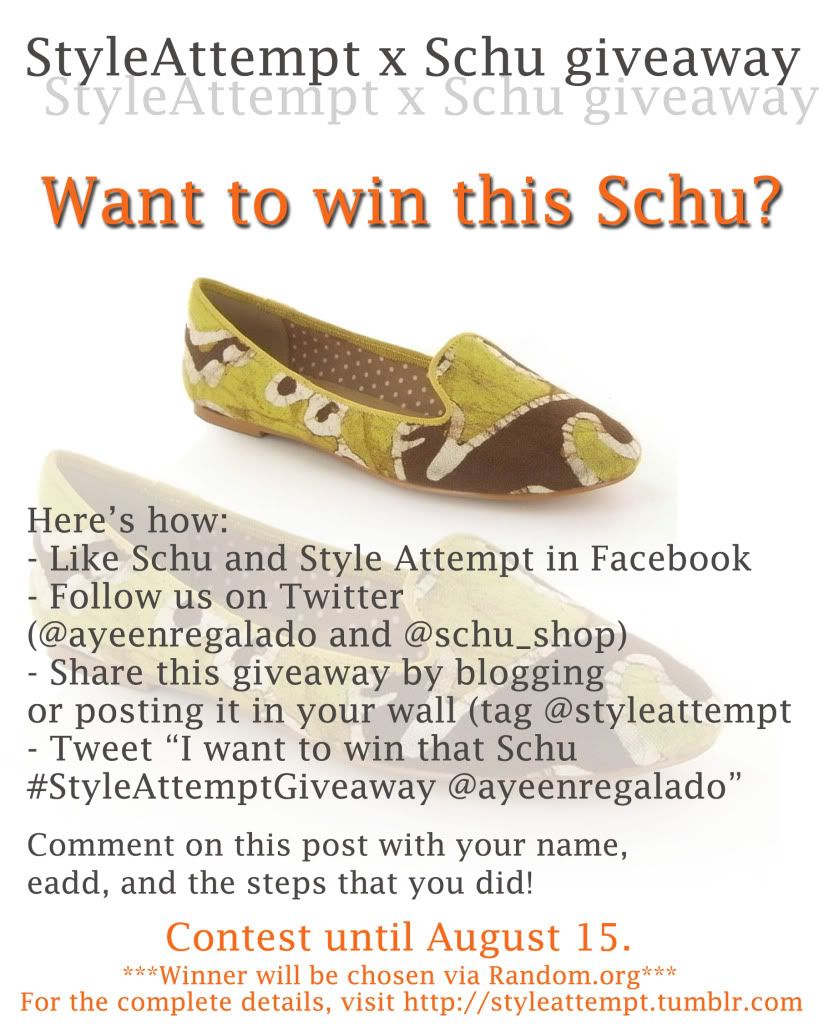 So, here's how you can win that pair of Schu:

- Follow Schu and Style Attempt in Facebook
- Like Schu and Style Attempt (via @ayeenregalado) on Twitter
- Share this giveaway by blogging (or reblogging if you're in Tumblr too) or by posting the photo in you wall (tag @styleattempt in FB)
- Tweet about the giveaway in this format: "I want to win that Schu! #StyleAttemptGiveaway @ayeenregalado" 

Let me know if you joined by commenting on this post (with your name, eadd, and FB and Twitter usernames) and by enumerating the steps that you did! :)  

Contest runs until August 15. Winner will be chosen via Random.org and will be announced in StyleAttempt's Facebook page. :)
Join, join!!! :)
xx, A